Articles Archive for May 2012
The warm weather has brought the carp to the surface so I just had to go stalking. I tried on Willow pond for one of the Ghosties and had no luck, but I spotted lots of Carp sucking on the Willow seeds that had blown in to Fir Tree pond. I free lined a small piece of crust on a size 6 hook and it wasn't long before I had a lovely 3.5lb mirror in the net. Forgot how exciting surface fishing is and I'm looking forward to my next go!!
May has seen the arrival of 4 goslings on the fishery. So far all the fisherman's comments have been positive and they are pleased to see them. On another positive note I think they may help to deter Heron's and have seen them protecting there young from the crow's which must be a good thing! They have been no trouble and keep well away from people, which is how we want them to stay, so when visiting the fishery please do not feed them.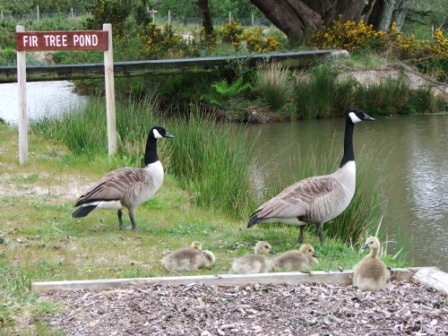 We now have 4mm soft hook pellets. There are three flavours to choose from: F1 carp, garlic and halibut. So far I have tried the garlic pellet and they fished well. All are priced at only £2.50 each.