4 December 2017
Yesterday was winter league round 4 and it never ceases to amaze me how Ricky Dennis and Alex Bradley always manage to draw spot on! Alex pulled peg 3 on Heron from the bag and Ricky had 15 on Fir Tree stuck to his hand, which coincidentally was what he wanted! Fish fed well on Heron with corn being the favoured bait whilst on Fir Tree it was hard with fish responding to dobbing tactics, here are the results:
Fir Tree Section
1st Ricky Dennis peg 15 24lb
2nd Roger Rachel Baker peg 7 17lb 6oz
3rd Neil Hodder peg 9 13lb 14oz
Heron Lake Section
1st Alex Bradley peg 3 54lb 14oz
2nd Paul Glanville peg 17 34lb 15oz
3rd Tony Jose peg 19 26lb 13oz
Well done Ricky and Alex on winning your sections and thanks to everyone who came. Next Sunday there will be an open on Heron lake. If you would like to fish please book.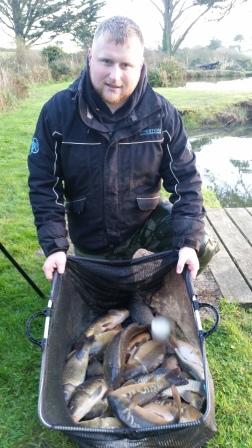 4 December 2017
Today's open was fished on heron lake. We were going to run a pairs match, but with 7 fishing this was a bit difficult so we ran an individual's. Fishing was hard but close, with the pegs around the island producing the best weights, here are the results:
1st Adrian Holland peg 5 31lb 2oz
2nd Mike Bennets peg 15 28lb 12oz
3rd Tony Jose peg 18 25lb 2oz
Well done Aide on the win today and thanks to everyone who came.
Next Sunday is a winter league match.