Match Results Sunday 17th April 2016
Today's match was held on Fir Tree Pond as Heron Lake was booked for a private club match. The weather was fine with good spells of sunshine, there was a chill in the northerly wind but this made little difference as there were some good weights. I put in one of the new pegs (peg 14) and although Tony Jose was sceptical it would produce he drew it and had a fish every put in. Tony was the run away winner but there was very little separating the next three, here are the results:
Tony Jose (Pictured top) Peg 15 63lb 14oz
Jimmy Crossley (Pictured bottom) Peg 11 35lb 10oz
Neil Hodder Peg 3 34lb 8oz
Aide Holland Peg 7 33lb 6oz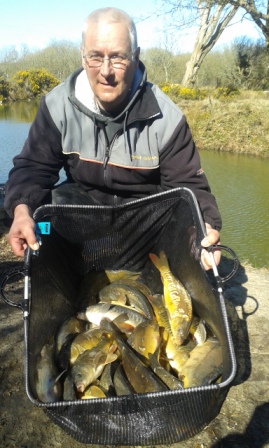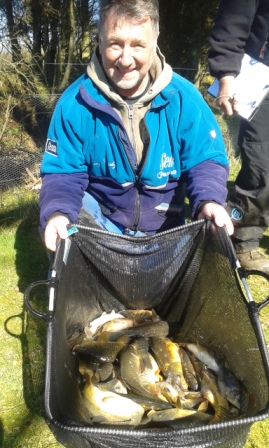 Tony fished and fed 6mm pellets to the island and picked up most of his catch on one line.
Well done Tony and thanks to everyone who came.
Our next open is a also a blind pairs match, if you would like to fish please book. Ring or text me 07842 089760