Today's Match Results
23 August 2015
No Comment
At last, some decent weather for a match, here are the results:
Josh Anderson Peg 5 84lb 14oz (Pictured)

Neil Hodder Peg 15 73lb 8oz
Mike O' Gorman (Bolingey) Peg 19 67lb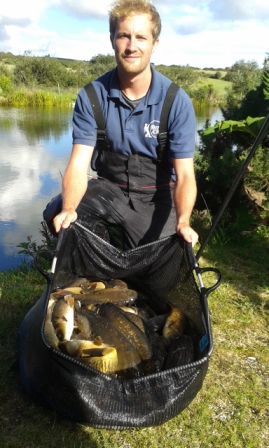 Josh started on a long pole and caught a few small carp but it was a bit slow, so he switched to a feeded cast to the shallow shelf around the island and started having a fish every put in, after about 2 hours the feeder line slowed up and he started fishing pellet shallow down the right hand margin and was having a fish every put in. He switched between the margins and feeder for the last hour to scoop 1st.
Well done Josh and thanks to everyone who came, our next open is Sunday 6th September, hope to see you there.