Articles Archive for November 2012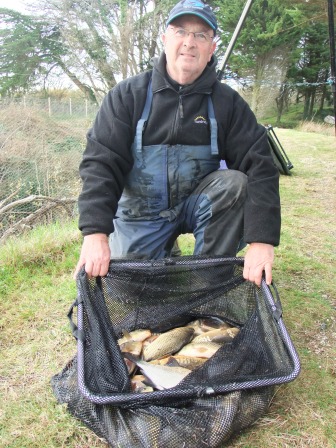 Marazion Angling Club held there first of three matches at Amalwhidden Farm today on Heron Lake. There was 12 fisherman and everyone caught (just!!) 1st was Mike O'Gorman (pictured) with 27lb 12oz and won £40, close 2nd was Jeff Chatfield with 26lb 10oz and won £30, 3rd was Boz Philips with 17lb 2oz and won £15 and 4th was Gary Smith with 16lb 8oz and won £14. Well done to all and thanks for using our fishery as one of your winter venues. We look forward to seeing you all in December.
If you would like to use one of our lakes for a match please contact us for details.
Can't believe my luck, I fished in my second match on Sunday and won. I had 30lb of mirror and common carp up to 2 1/2lb and won £15. Second was John with 27lb and he won £10. Even though it's turned colder Heron Lake & Fir Tree are still fishing really well.