Fir Tree, our Silvers Lake

Fir Tree Pond is approximate 1.25 acres with 16 pegs with a depth of 4-7′ with a shallow stretch along one side of the main island which is 2-4′ deep. It is really well stocked with loads of quality coarse fish to include bream up to 3lb, lots of tench up to 3lb, crucian carp, perch and roach up to 1lb. It has two islands which make interesting features.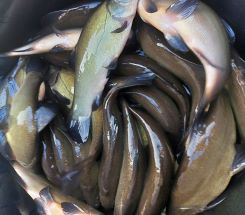 This really is a great pond where you can fish with light tackle.

Fish stocked in Fir Tree Pond:
Perch
Tench
Bream
Roach
Crucian Carp