Facilities
Farmhouse Self Catering Holidays
Enjoy free fishing when staying in our Farmhouse this summer. Relax in peaceful, rural surroundings only a 5 minute drive from the beautiful beaches, restaurants and galleries in St Ives. Visit our web pages on holiday lettings for more details and bookings.
________________________________________________________________
Fishing Rod Hire £15 per set
UNFORTUNATELY THIS IS NOT AVAILABLE AT PRESENT DUE TO COVID GUIDANCE
We have rod and reel kits for hire. Each kit comes with all the tackle you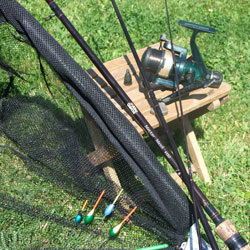 need for a days fishing a landing net for safely landing and returning fish. Bait is also included in this price.
Please phone first if you wish to hire rods as we have a limited number. 07842 089760
If you have never fished before this is a great way to get started. We will set up the equipment for you and get you fishing. So if you are on holiday and are looking for a different day out or would just like to give fishing a try for the first time this is a great way to get into the sport.
---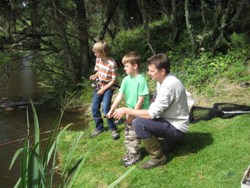 Beginners Fishing Tuition £10 per hour
UNFORTUNATELY THIS IS NOT AVAILABLE AT PRESENT DUE TO COVID GUIDANCE
If you would like to get into coarse fishing and not sure where to start, we can offer one to one tuition. I have been a pleasure angler for twenty five years and a match angler for 15 years and love to pass on my passion for the sport and get new people involved, of all ages.
---
Fishing Bait
We sell tinned sweetcorn and coarse fish pellets. If you wish to use pellets as a loose feed we only allow our own, however you can use a pellet of your choice as a hook bait. There are two good tackle shops in the Penzance area. West Cornwall Angling on Alexanrdra Road and Newtown Angling just past Roseudgeon on the road to Helston. Both have a large selection of coarse fishing baits and tackle.
---
Refreshments
REFRESHMENTS ARE CURRENTLY UNAVAILABLE
Tea, coffee and hot chocolate brought to you at the bankside in returnable insulated mugs.
---
Parking
There is ample parking with close, flat and easy access to the lakes.
---
Toilet
There is a flushing toilet and hand basin sited in the car park close to the ponds.