Match Results Sunday 24th April
This Sunday's match was an individual open and a blind pair's match. It proved to be a great day with the added fun of the pair's. We had 15 fishing in bright sunshine but the cold northerly wind made it tricky for some. We fished 2 sections on both lakes and paid the top 2 in each section as well as the top 2 overall pair's, which saw a good spread of the pools money, here are the results: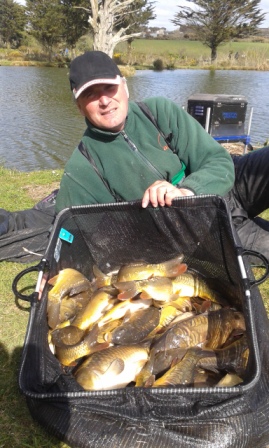 Fir Tree Pond:
Jon Wykes (Pictured) Peg 2 50lb 4oz
Neil Hodder Peg 14 33lb
Heron Lake
Tony Jose Peg 13 48lb 6oz
Alex Bradley Peg 2 44lb 6oz
Pair's Results:
Jon Wykes & Chris Symons (Combined weight) 93lb 6oz
Lee Dark (had a bye) (Combined weight) 68lb 4oz
Thanks to everyone who came it was a great day and hope to see you soon.
Our next match is a 2 day festival, the first day is at Kernow on Saturday 30th and back here at Amalwhidden on Sunday 1st May. If you can't make our 2 day event our next open will be Sunday 8th May. 🙂