Articles Archive for August 2015
At last, some decent weather for a match, here are the results:
Josh Anderson Peg 5 84lb 14oz (Pictured)

Neil Hodder Peg 15 73lb 8oz
Mike O' Gorman (Bolingey) Peg 19 67lb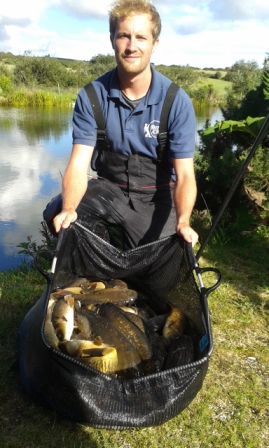 Josh started on a long pole and caught a few small carp but it was a bit slow, so he switched to a feeded cast to the shallow shelf around the island and started having a fish every put in, after about 2 hours the feeder line slowed up and he started fishing pellet shallow down the right hand margin and was having a fish every put in. He switched between the margins and feeder for the last hour to scoop 1st.
Well done Josh and thanks to everyone who came, our next open is Sunday 6th September, hope to see you there.
Wednesday 12th August was mid week match day on Fir Tree Pond and it was great to fish in warm, calm, sunny weather (It's not always windy at Amalwhidden) Results:
Roger Baker (Sensas Thyers) Peg 2 53lb 4oz

Neil Hodder Peg 10 45lb 2oz
Mike Blowman Peg 8 35lb 8oz
We will be having another Wednesday open match on 19th August, peg draw 9am, £15 all in.
Our next weekend open match will be Sunday 23rd August see our match page for details.
If you would like to fish any of our opens give me a call to book a peg.
Sunday 9th August was open match day and despite the bad weather (Again!!) Heron Lake fished really well. I caught well all day and thought I had about 50lb in one net so started using a second. When I weighed in, my main carp net had 67lb in it AAARRRGGHHH!!! So I was only allowed the top limit of 55lb, adding up was never one of my strenghts, here are the results:
John Wykes Peg 9 77lb 2oz

Neil Hodder Peg 19 73lb (Should of been 85lb if I can count)
Les Pearce Peg 3 36lb
Well done John and thanks to all whom came. Our next open match will be a mid week one next Wednesday 19th August, peg draw 9.00am, £15 all in. Give me a call if you want to book a peg 07842 089760.